LIVING FOR ADVENTURE
ERLEBEN SIE IHR PERSÖNLICHESABENTEUER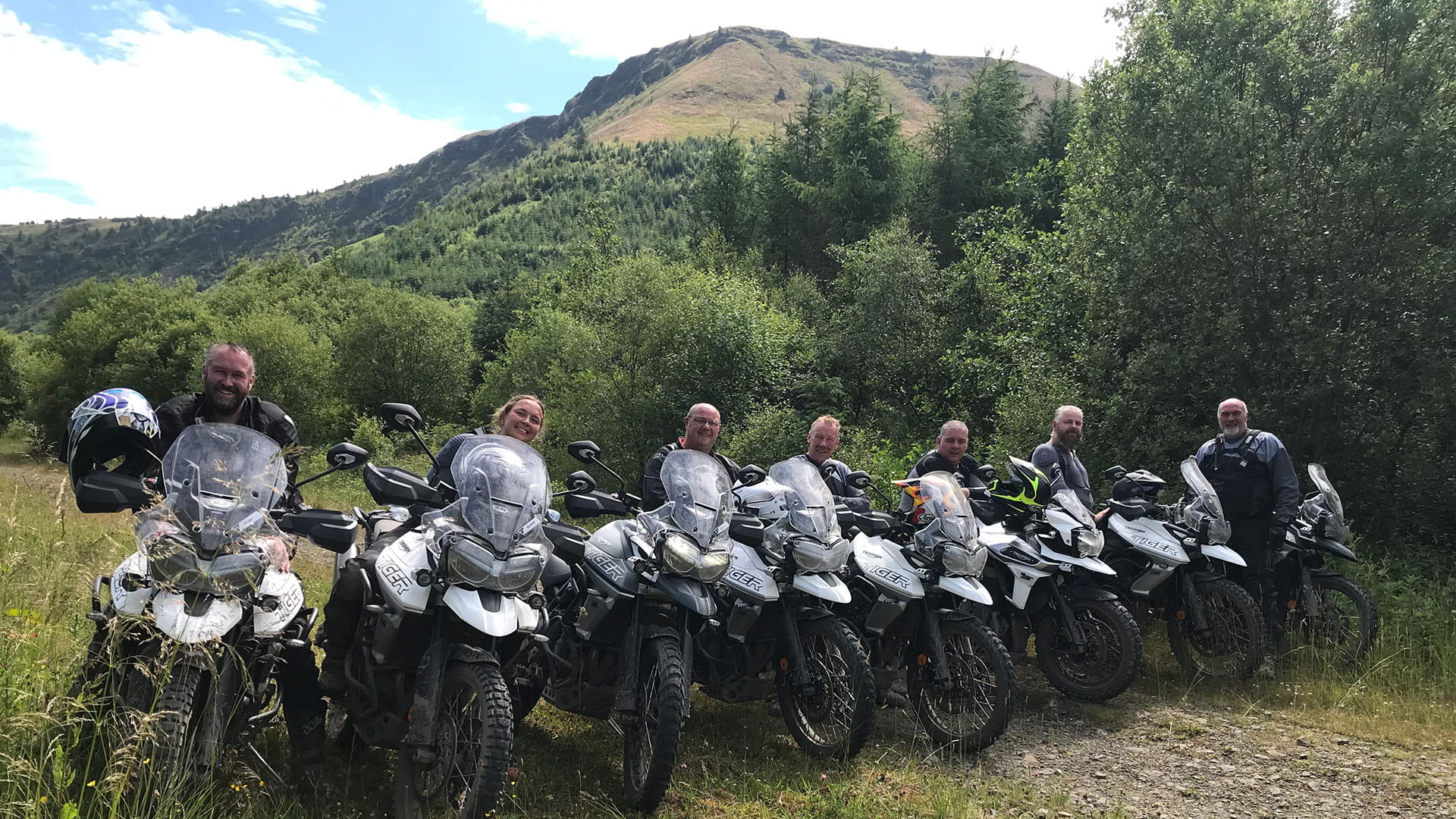 ABENTEUER UND FREIHEIT
Wir möchten, dass Sie die großartigen Triumph-Motorräder auch in einer großartigen Umgebung erleben. Unsere abwechslungsreichen, landschaftlich reizvollen Brecon Beacon Trails werden Ihre Fähigkeiten erweitern, Sie begeistern und herausfordern. Genießen Sie das Gefühl, die Herausforderungen und Bedingungen auf der Straße und im Gelände jederzeit souverän im Griff zu haben, von denen Sie bisher dachten, sie wären jenseits Ihrer Grenzen.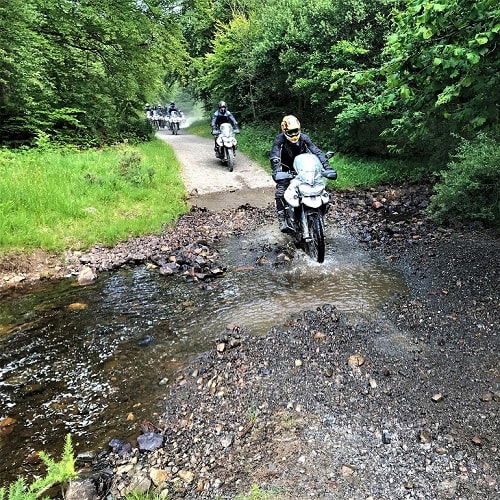 FREIHEIT UND SPASS
Mit der beeindruckenden Kraft und dem legendären Sound des 900er Bonneville-Motors von Triumph haben Sie die perfekte Möglichkeit, unsere einzigartigen Routen in leichtem Gelände zu erleben. Die Street Scrambler ist ein zuverlässiges Motorrad, dessen leichtes, intuitives Handling Sie schnell zu schätzen lernen und mit dem Sie maximalen Spaß erleben werden.
Was ist das genau? Ein intensiver, eintägiger Kurs auf Straßen und in leichtem Gelände auf einer Street Scrambler.
Für wen eignet er sich? Für alle.
Was beinhaltet der Kurs? Fahrtechnik-Beratung, Street Scrambler Motorrad, Mittagessen und Erfrischungen.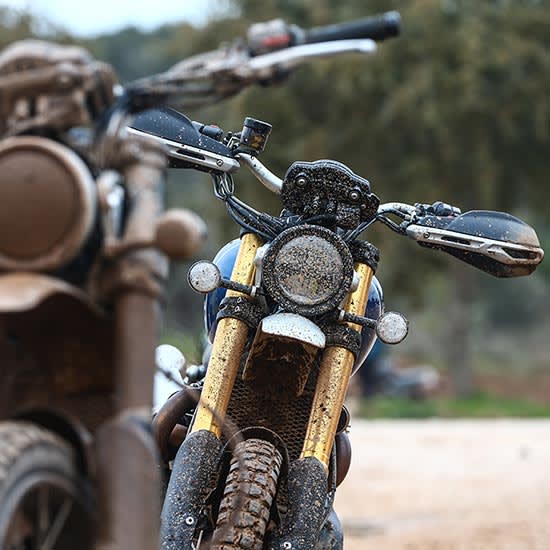 LEVEL 2 EXPERIENCE DAY: WITH TIGER OR SCRAMBLER £299 (PER PERSON)
Choose from the Street Scrambler, Tiger or Scrambler 1200, and learn to confidently tackle road and off-road challenges and conditions that you previously thought were beyond you.
What is it? A one day guided, off-road riding experience around mid to South Wales - utilising some of the best roads and trails.
Who does it suit? Riders who have completed a Level 1 Experience or equivalent.
What does the course include? Riding tips, bike hire, fuel, lunch and refreshments.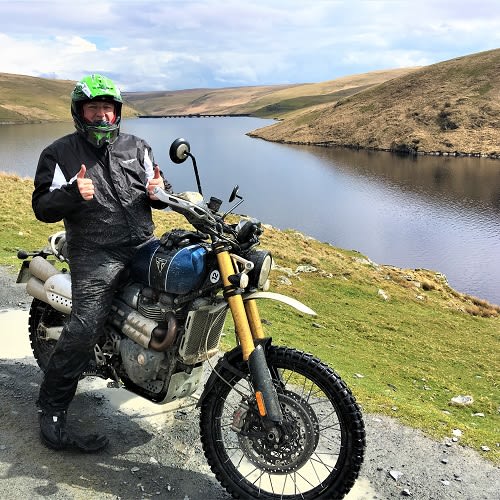 2 AND 3 DAY GRAVEL TOURS 
FROM £649 (PER PERSON) 
Refine your existing adventure experience and skills with a choice of two or three days of intensive guided tours through some of Wales' most challenging and rewarding landscapes that include some of the UK's best twisty roads, gravel roads, rivers, streams, forests, and mountain trails. This fantastic experience also incorporates parts of the amazing TET (trans European trail).
During this all-inclusive experience, you'll appreciate attentive technical advice and support while fine-tuning your bike-handling skills on terrain that you wouldn't ride every day.
What is it? An all-inclusive 2 or 3 day experience covering long distances, diverse riding conditions and epic scenery.
Who does it suit? For riders that have at least completed Level 2 (or intermediate off-road) training.
What does the course include? Overnight stay, equipment, luggage transfer and lunch and evening meal Riding advice, Tiger 900 or Scrambler 1200 motorcycle, fuel. An all-inclusive package.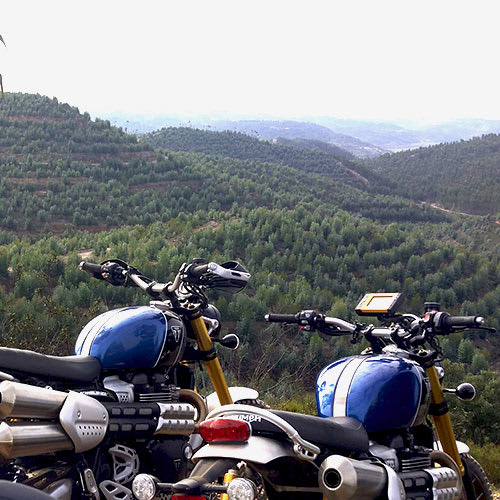 Portugal Adventure Holiday
From £3,600 (per person)
Our Adventure Holiday is geared for those who not only have a serious appetite for off-road riding but also enjoy the social side of adventure motorcycling. Come join the Triumph team for our Portugal Adventure, you'll fly to Faro airport where you'll be met by our team and shuttled to our base. Each day you'll embark on a new adventure on your choice of motorcycle from our range of either Scrambler 1200 or the latest Tiger models.

Our adventures take you into the hills where you'll spend each day enjoying the endless trails that make their way around the mountains. Our instructors will guide you through water crossings, uphill climbs and a mixture of flowing trails with some technical single track, and fire-roads.

We can also offer you a full clothing hire package including helmets to make your trip easier to plan and pack for, as well as Go Pro cameras to capture all those amazing moments throughout your trip.